Firelog ULTRA FLAME Pine Mountain / Leño para Chimenea
$190 IVA incluido
Fácil encendido · Precio por leño
30 disponibles
Descripción
Leño para chimenea (individual).
Step One: Without tearing, loosen paper around Ultraflame firelog.

Step Two: Place one firelog on grate, near the rear of the fireplace with Pine Mountain logo facing room.

Step Three: Lift top seam and light at each arrow. Close fireplace screen.
---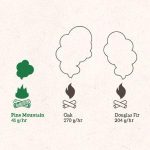 Menos monóxido de carbono (gramos/hora)
Pine Mountain Firelogs producen hasta un 80% menos de monóxido de carbono que la madera.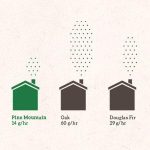 Menos materia de partículas (gramos/hora)
Pine Mountain Firelogs producen hasta un 75% menos de partículas que la madera.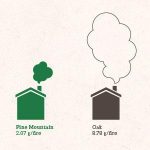 Menos Acumulación de Creosote (g/fuego)
Pine Mountain Firelogs producen hasta un 66% menos de acumulación de creosota que la madera.
---
Pine Mountain / ULTRA FLAME / Firelogs
3 hrs. burn time
4.8 Lbs
Log dimensions: 14.5″L x 4.2″D x 4.2″H
---
Pine Mountain firleogs are used in fires that celebrate holidays and parties. They also are used in camping or outdoor entertaining. Some people use fires to create ambiance and romance. Fires can be used to relax and escape your stresses. Or, fires can simply warm your home on a cold fall or winter day. Whatever the occasion, Pine Mountain Firelogs are easy to use, fast lighting, clean burning and have dependable burn times. They provide comfort to you and add warmth to your home.
Pine Mountain Ultraflame firelogs offer superior performance. They are fast lighting for added convenience. When compared to ordinary fire wood, Pine Mountain firelogs burn faster, easier and cleaner. It takes away the worry of damp or green wood that does not light and bringing insect infested wood into your home. With controlled burn times, it does not require continual stoking of the fire to keep it burning or staying up late to nurse a fire until it flames out.
Ultraflame, a premium product, evokes the biggest, boldest and brightest fire for extra heat, glow and warmth. They are crafted from real hardwoods and come wrapped in paper for simple, no-mess handling. They burn for 3 hours. In addition, Pine Mountain offers Traditional Firelogs in varying burn times – 2-hour, 3-hour and 4-hour. Pine Mountain Firelogs offer real fire enjoyment to suit your needs.
And if you want to truly evoke your senses, check out Pine Mountain CrackleLog for the crackling sound and Pine Mountain ColorCrackle for the crackling sound mixed with beautiful colored flames. Java-Log is a sustainable, eco-conscious log made from recycled coffee beans. American Home Firelog by Yankee Candle provides the scent of balsam fir until lit. And, YuleLogg is a unique, seasonal offering that can make a great housewarming gift or be used in your own holiday traditions.